Why Study Abroad:
Studying abroad comes with many benefits i.e. get a high-quality education, study a range of courses, discover new interests, students get to learn a new language, gain new skills and overcome personal challenges, experience another culture first-hand, etc.
How we support:
Students who are planning to apply to foreign universities i.e. USA, UK, Canada, Australia, New Zealand, Germany, Europe, etc. can approach us.
Complete guidance will be given by counselors for the admission process starting with the selecting a major, entrance exam to be prepared (if any), university shortlisting till the application is done. University-specific updates, webinars about the university and courses, and admission notifications will be sent regularly. 
We help students fill university application forms and also support them enroll in Essay/SOP writing workshops to help students write an impressive essay as it's an important part of the application process.  We also review and edits student essays/SOP/Personal statement and give constructive feedback. 
We also support students in sending supporting documents to the universities like transcripts and recommendation letters.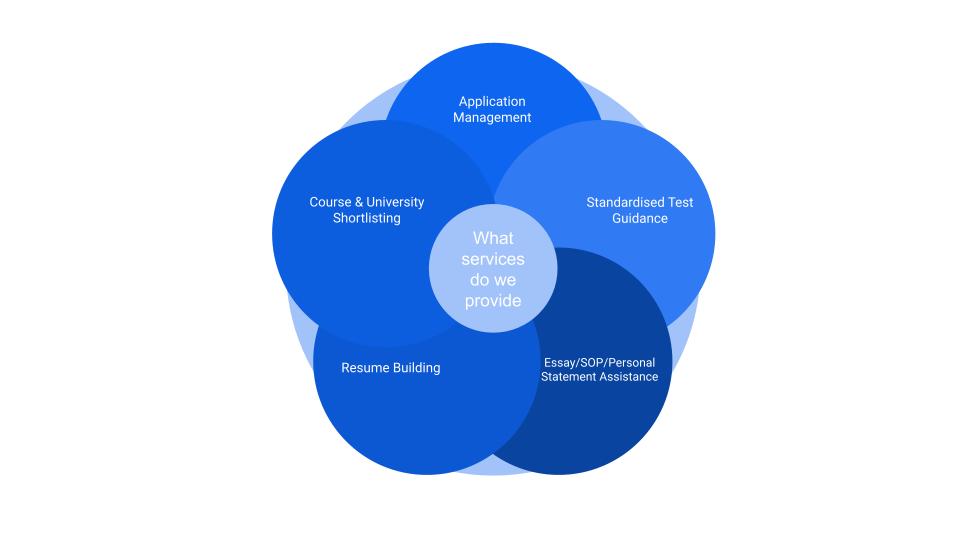 The majority of Indian universities are also world recognised. Our guidance includes admission to both private and state colleges e.g. Delhi University, Mumbai University, NMIMS, Symbiosis, Ashoka, O.P Jindal, and universities and colleges in Gujarat. 
Students planning to apply to Indian universities are guided about
the major selection
guidance for university selection, and respective entrance exams
how to fill application forms and
documentation process